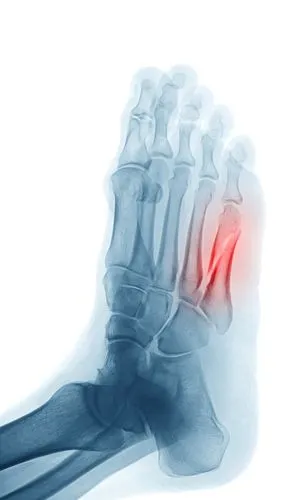 The outer border of our foot sustains the load of our entire body during normal walking. Our heel first strikes the ground and ultimately our toes flex to propel us forward. However, the critical period between these two actions is the progression of our body weight along the outer mid-foot. This region is occupied by multiple joints, the peroneal tendons and the 5th metatarsal (the area between the heel and baby toe). Any subtle change in foot function can cause wear and tear and overload conditions such as:
Tendinitis
Arthritis
Tailors Bunion (Bunionette)
Stress Fracture
Nerve Entrapment
Furthermore, this area can commonly sustain injury as the result of an ankle sprain, including fracture and tendon tear/rupture.
Like one being near sighted or far sighted leading to a need for prescription eyewear, many of us have asymmetric foot motion that may require custom orthotic devices to neutralize the abnormal motion that result in the injury and breakdown of our feet. The Foot & Ankle Group offers a state of the art 4D scanning system to analyze your foot motion and design an orthotic device that addresses your condition.